One of the most important aspects of running a successful small business is bringing in clients, but doing so can be a tricky matter. Here are a few ways to go about finding (and securing) those elusive customers.
HOW TO FIND CLIENTS TIP #1:  ADVERTISE MINDFULLY
Perhaps the most obvious strategy is to advertise. In the most basic of terms, getting your business in front of more eyeballs increases your likelihood of selling and there are dozens of ways to go about advertising. You can invest in sponsorship opportunities, print ads, web ads, online giveaways or tradeshows (to name a few) in an effort to connect on and off line with your potential market.
Keep in mind: The number one thing to remember with any ad opportunity is to research, research, research – thoroughly! A magazine may charge you a fee for two shout outs on their Facebook page with 100,000 followers, but if their average post only receives 30 likes at any given time, you may want to think about the value of that investment.
Similarly, if investing in an online advertising campaign, such as a giveaway or an ad, ask for specifics about the site in question. How many page views, conversion rates, click throughs and unique visitors that site receives on a monthly basis is crucial information that you are entitled to know before spending on an advertising initiative.
[ctt template="4″ link="e2cXb" via="yes" ]"Advertising is only effective if it raises your brand's awareness with your desired demographic." ~ @LLBCreative[/ctt]
Personal Tip: Be mindful of what kinds of audiences you are advertising toward. Does the advertising opportunity cater to your target client? For example, I love love love shooting intimate sentimental weddings, meaning placing an ad in a high end wedding publication that only publishes lavish designer celebrations isn't a good fit for my business, as it most likely wouldn't reach those couples throwing smaller weddings. Instead I choose to look for opportunities that interest my ideal clientele. Advertising is only effective if it raises your brand's awareness with your desired demographic.
HOW TO FIND CLIENTS TIP #2: PRESENT YOUR BEST SELF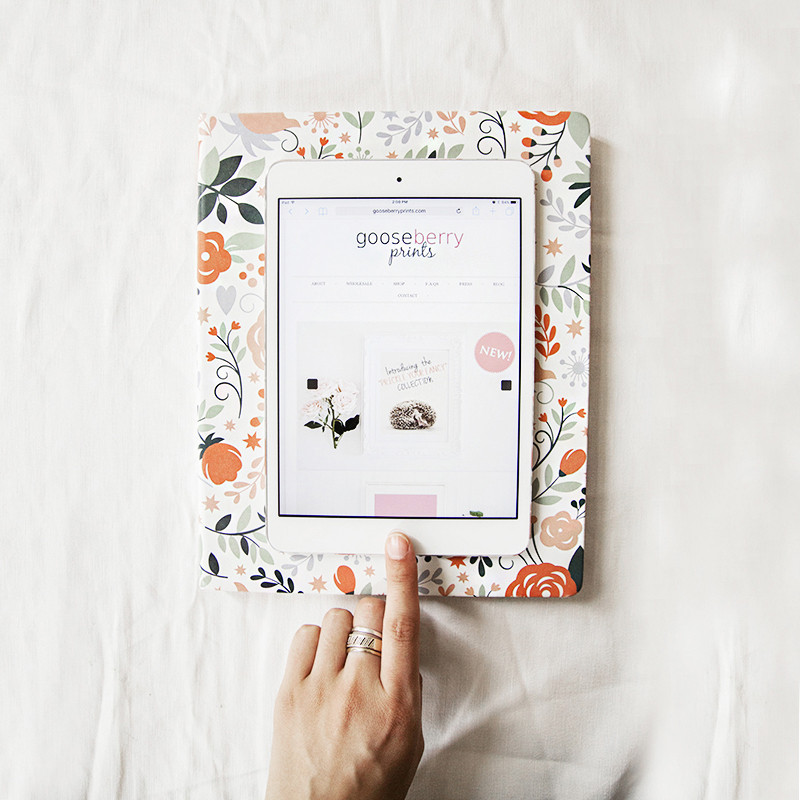 So you have placed the ideal ad (congratulations!) and people are visiting your website. You're work is done, yes? Wrong! You now have to 'seal the deal.' You could have the coolest product or service in town, but if your website doesn't look clean, polished and professional people will not spend with you. In the online world you have less than six seconds to capture someone's attention before they click away. Intense, right?
Think of it this way – would you trust a website that had poor layout, appalling fonts, no clear definition and shabby photography? Probably not, so don't expect your potential clients to either. Invest in making your online presence the best it can be, easy to navigate and welcoming to turn those casual visitors into motivated buyers.
Keep in mind: An effective website does not have to be complicated. In fact, less is always more and simplicity usually ends up looking more modern, chic and professional. That being said, however, make sure your site is informative so visitors understand exactly what you do and how you do it. Nobody likes a vague answer, so fuel your website with as much relevant information as possible to inspire confidence in your business. Also, make sure your website is mobile friendly – that is a must!
Personal Tip: A common mistake I see on a lot of small business websites is no direct way to contact said business. Make sure your contact information is easy to locate otherwise you risk alienating a potential customer and thus losing a potential sale.
HOW TO FIND CLIENTS TIP #3:  HARNESS SOCIAL MEDIA

There is a lot that can be accomplished with social media nowadays in terms of getting your business out there and securing clients. Do a few social media platforms well versus trying to do all of them haphazardly and focus upon organic growth so that you collect people who are genuinely interested in what you have to offer.
Invest time and strategy into your social media efforts by designing your social media presence to serve a purpose and essentially invite people into your brand. Take the time to build relationships online and network to generate potential leads. The best part about social media for a small business is that it only costs time – and perhaps a wee investment if you hire someone to show you the ropes and get a handle on your strategy.
Keep in mind: The more genuine you are on your social media channels, the better the connection you generate with your online community. You don't have to share every little detail about your personal life, but being personable and letting followers into the behind-the-scenes aspects of your brand and thoughts will help to build buyer trust.
Also, just like your website's appearance, be sure that your social media channels accurately project the business you are representing. Curate your content well, organize your posts and make your brand standout visually in the marketplace. Your brand should be a pleasure to follow and your posts should be something people look forward to.
Personal Tip: Focus your social media efforts upon building engagement instead audience numbers. After all what is the point of having 50,000 followers if your Instagram posts only get 200 likes (a 0.4% engagement rate). Better to have only 500 followers and get 200 likes on an average post (a 40% engagement rate). See the difference? It's a cliche, but the quality of follower over the quantity of followers is often more beneficial.
HOW TO FIND CLIENTS TIP #4:  POSITIVE WORD OF MOUTH

Word of mouth is hands down the most powerful business builder out there. Provide your customers with an exceptional experience from the moment they first email or call you until delivery of the final product, and even beyond!
When I lived in Ottawa I went to an independent stylist for my haircuts instead of a salon. Why? A friend told me about her and when I arrived I found her workspace clean and welcoming, her disposition was friendly and she served wine and endless chocolate while you were in the chair. Divine, right? That little bit of extra service made me gush about her to everyone! That's what you want from your clients too – the gushing, because people are more likely to buy based on a friend's recommendation than any other form of advertising.
[ctt template="4″ link="Yj6dw" via="yes" ]"Word of mouth is hands down the most powerful business builder out there." ~ @LLBCreative[/ctt]
Keep in mind: Brainstorm unique ways to make your clients' experience a wonderful one. Thank you cards, attention to detail, custom playlists, complimentary little extras — the more creative you get with it, the more memorable you become! Consider running a survey or posting questions on your social media feeds to learn about what your ideal clientele appreciates so you can better serve them.
Personal Tip: The key to providing a wonderful customer experience is to focus upon the customers you have in the now rather than worry about the customers you have yet to find. It's easy to let anxiety about 'next month's quota' run the show, but that is a fatal mistake. Focus on the people you are serving in the present and go above and beyond for them so they will give you a glowing review to their friends.
Building a client list or consumer base does take time, but these four tips can help to speed up the general process and help your business receive the attention it deserves.
***
BOOK YOUR SMALL BUSINESS STRATEGY SESSION
OR BRANDING PACKAGE!
***
ASK ME ANYTHING!
Have a question about running a small business? Ask it in the comments below or email me at lauralbenn@gmail.com with "Business Question" in the subject line and I'll be sure to answer it in a future instalment of "LLB Small Business Advice."
(By the way, there are no silly questions so please don't be shy!)
Save
Save
Save
Save
Save
Save